Frequently Asked Questions
Where is my order?
1. Track your order
All you need to do is log into My Account and select the order you want to track.
Click the 'Track Order' button to follow your parcel.
 2. Check the estimated delivery date
You'll find this date in your Order Confirmation email and in the orders section in 'My Account'.
Please remember that this date is an estimate, so your order may arrive slightly before, on, or slightly after your estimated delivery date. To see the progress of your order, check your tracking.
3. I'm still waiting for my order
Waited until your estimated delivery date? Please allow an extra few days for your order to be delivered (especially during busy times) – our carriers are always doing their best to get your order to you. Make sure you keep an eye on your tracking link for the latest updates.
How can I find your international delivery information?
We know how important it is to receive your goods when you expect them, so we want to make sure you have all of the delivery information you'll need when placing an order with us.
What delivery methods are available?
We use UPS and FedEx to deliver dolls to the US and UPS or DHL(for mini dolls) when shipping to Europe. The courier delivery times are the same.
Doll delivery is trackable. You'll receive a tracking number to your email 3 days after the doll was shipped from the factories in China.
Click here for more information on delivery to a PO Box.
How much does it cost?
Shipping is completely free, unless living in a very remote area like wild Alaska, remote islands, Siberia etc.
Will I be charged customs?
Prices you see on the website include import duties, taxes and VAT (excluded countries – Sweden, Norway, Romania, Switzerland, Canada, United Kingdom, Malta).
How long will the shipping take?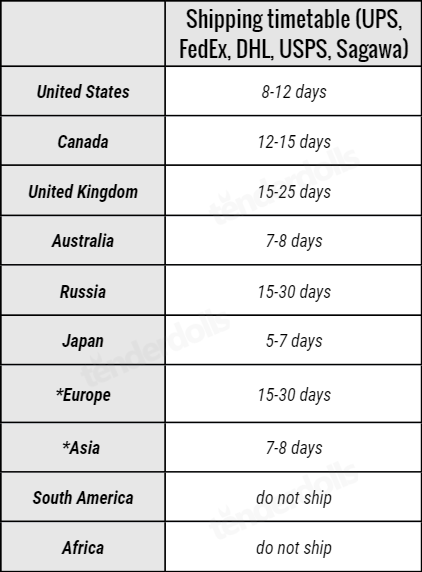 *We aim to meet these delivery times but during busy periods (including sale) deliveries may take a little longer. Occasionally certain events, such as extreme weather conditions, worsened local pandemic situation will mean that these delivery services aren't available and/or delivery times need to be extended. However, we will always work hard to keep these temporary changes to a minimum. Tenderdolls cannot be held liable for any parcels that are lost or stolen as a result of any specific delivery instructions left for the carrier.
What happens on the day of the delivery?
Our delivery partners operate during normal business working hours. In case weekend delivery is necessary, please contact us at [email protected]
A signature will be required, so we suggest your order is delivered to an address where someone will be available to accept it.
Your order will be sent out with our most suitable delivery partner and will depend on the doll's size and weight.
If you're not in when your parcel arrives, our delivery partner will leave a card telling you where it is. It might be left in a safe place or there will be details on how to pick up your order or rearrange delivery. You will also be contacted via a call or a text message (depending on the location).
Please be advised that on any public holiday dates in your country, deliveries will not be made. In this instance, please expect your order to arrive the next business day.
My order status is still 'On Hold', when will she start being made?
Don't worry if the status of your order is showing 'On Hold'. Once you place your order, the order is sent to the factory in within 1 day's time. It means that the order was received and it is being manufactured even though her status says "On-hold"
Why don't you change the status to processing, once the order placed?
Weirdly enough, this is done to save costs. Some customers, once they order, might feel that they want a different doll or post-pone the order for an important reason.
The status change is delayed deliberately so that we could provide a full refund for the customer who has changed his mind when the order was "On-hold".
Can I track the delivery of my order?
Yes, absolutely! Once the factory pictures are confirmed, allow us for a 3 days time to send you the tracking code to your email that was listed in the checkout page when ordering.
You can however contact the courier and arrange a specific delivery date. If you're on vacation, FedEx and UPS can hold the package at their warehouse for up to 7 days before attempting delivery.
You'll be able to follow your girl's journey to you as we provide a tracking code with all of our shipments.
What happens if I'm not in when my doll arrives?
Someone should be home when your doll is due to be delivered as we will need a signature. However, don't worry if this isn't possible as our delivery partner usually tries to deliver more than once. This is done for her safety as this prevents the package from getting stolen if left unattended by the door.
Alternatively they'll leave a card confirming that they've either left it with a neighbour, left it in a safe place, when they will try to re-deliver or give you details on how to collect it.
Can I have my doll redirected to a different address?
For your security, once a  doll is sent, we aren't able to change the address she is being sent to. Don't worry – if you're not in when a delivery is attempted our carrier will leave a card advising how to arrange a redelivery or where you can pick up your parcel.
Can I have my doll delivered to a PO Box address or my work?
We're able to deliver to a PO Box in most countries. Please note that we're unable to deliver to PO Box addresses in the following countries:
Belgium
France
Germany
Italy
Luxembourg
New Zealand
Spain
UK
Can I have my doll delivered to my work address?
We can deliver to your permanent residential address or your place of employment. If you want your delivery to reach you at work, you need to be confident that someone will be there to take receipt of the goods as the courier will deliver to the place not the person. Is your place of employment at a PO Box address?