TD Purchase Guarantee
Our main goal is to supply sex dolls with as little risk to the customer as possible. Every doll is is thoroughly tested and inspected before leaving the factory.
What does TD Purchase Guarantee include?
Our experienced quality control after a doll is made
Quality control photos sent to the customer of the finished product before we ship
Money-back or doll replacement guarantee if the doll arrives damaged or with defects.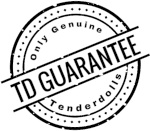 Warranty
We offer refunds when there was a processing mistake, a different doll has arrived to you or when the doll has arrived damaged due to transportation. Also if the doll's package is unopened, the doll is unused we can also issue a full refund. Keep in mind that the customer has to bear the freight cost to ship the doll back to the factory!
It is very important to inspect your doll on arrival. If the doll has defects, please provide pictures or videos showcasing the problem and explain the issue in detail. We will provide all the necessary resources to fix the problem. Customer satisfaction is extremely important to us and we will do everything that is to our power to fix the issue.
What does the guarantee not cover?
Used dolls. It's extremely important to not use a doll to be eligible for a refund.
User damage. Sex dolls are delicate objects and require regular care and gentle touch. Click here to know how to take care of your doll. The damage that has formed because of the incorrect usage of the doll is not covered under warranty.
Skin imperfections. Dolls naturally can have slight discoloration and barely visible mold seams on their skin.
Loose Eyelashes and Nails. When the dolls leave our factories they are inspected and in top shape. Unfortunately, in very rare occasions, the eyelashes and toenails fall off or shift because of the transportation. If that happens, please contact us, so we can send you our Eyelash & Nail glue.
If your questions or concerns weren't answered, please contact us using the live chat widget on our website or at [email protected].